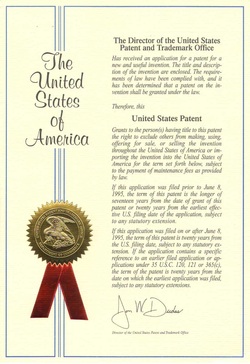 PATENTS
О ПАТЕНТАХ НА РУССКОМ ЯЗЫКЕ ЧИТАЙТЕ ВНИЗУ ЭТОЙ СТРАНИЦЫ

What Is A Patent?
A patent for an invention is the grant of a property right to the inventor, issued by the United States Patent and Trademark Office.
The right by the patent grant is "the right to exclude others from making, offering for sale, or selling" the invention in the United States or "importing" the invention into the United States.
An Introduction to the Patenting Process: Initial Considerations
Clients frequently ask if they will be able to obtain a patent on a new invention, and if so, whether obtaining a patent is in their best interests. In general, inventors should weigh the following initial considerations before seeking a patent.
Patentability requirements: Could we patent the invention?The Basic Rule
According to Federal law; "[w]hoever invents or discovers any new and useful process, machine, manufacture, or composition of matter, or any new and useful improvement thereof, may obtain a patent therefore[.]" This means that, absent any statutory bars to patentability, a new and useful invention or an improvement to an existing invention may be eligible for patent protection. However, certain conditions apply to this rule that could prevent the issuance of a patent.
Novelty Requirement
Has the invention been made available publicly for more than one year? If so, this constitutes a statutory bar to patentability. An invention has been made available publicly if it has been offered for sale, described in a printed publication, or used to produce a product.
Other statutory bars to patentability can be triggered if an invention was abandoned by an inventor who later returns to pursue a patent, or by an applicant who did not invent the subject matter sought to be patented.
The Non-obviousness requirement
In order to obtain a patent on an invention, it must be "non-obvious," or not anticipated by the prior art. If the differences between an invention and the prior art are such that the invention would have been obvious at the time it was made to a person having ordinary skill in the art to which the invention pertains, it may not be patented.
Prior art consists of U.S. and foreign patents, known pre-existing products, publications that disclose inventions, information obtained from industry trade shows and from third parties. If there is little or no difference between a new invention and the prior art, then an application will be considered obvious since there is no subject matter on which to obtain a patent.
Do You need an Attorney?
The preparation of an application for patent and the conducting of the proceedings in the United States Patent and Trademark Office (USPTO or Office) to obtain the patent is an undertaking requiring the knowledge of the patent law and rules and Office practice and procedure, as well as knowledge of the scientific or technical matters involved in the Particular invention.
Inventors may prepare their own applications and file them in the USPTO and conduct the proceedings themselves, but unless they are familiar with these matters or study them in detail, they may get into considerable difficulty. While a patent may be obtained in many cases by persons not skilled in this work, there would be no assurance that the patent obtained would adequately protect the particular invention.
Should we patent the invention?
If there are no statutory bars to patentability, it may be possible or even likely for an inventor to obtain a patent on an invention. Before proceeding however, other factors should be taken into consideration:
Licensing:
Patent owners may assign or license their rights in an invention. If this is a possibility, it may be preferable for an inventor to file an application, since patented inventions are typically more valuable than unpatented technologies.
Trade Secrets:
In order to obtain an issued patent, an inventor must fully disclose the best mode of carrying out an invention. That is, an inventor must be able to explain to the patent office how an invention works, what components comprise the invention, and any other information required to teach someone similarly skilled in the art of the invention how to make and use it. If fulfilling this requirement will necessarily involve the disclosure of confidential business information, such as trade secrets, an inventor should weigh the benefits of obtaining patent protection against the possibility of losing those trade secrets.
Joint Inventors:
Depending on their input, joint contributors to an invention might all be regarded as inventors. Furthermore, each inventor shares an undivided interest in any patent issued on the invention unless their interest is assigned. Therefore, it is important to make sure that all inventors agree to assign their rights in the invention, since even one inventor can authorize other parties to practice the invention.
Enforcing Patent Rights:The right conferred by the patent grant is the right to exclude others from making, using, offering for sale, or selling the invention in the United States or importing the invention into the United States. Therefore, violation of right under the grant is infringement, which allows the patent owner to apply for injunction against the infringer or to have compensation.PATENT APPLICATIONSProvisional Application
The provisional application option was designed to provide a lower cost patent filing in the U.S.and to give U.S.applicants parity with foreign applicants. Provisional application provide a means to establish a filing date in a patent application and permits the term"Patent Pending" to be used in connection with the invention.
Note: A provisional application alone does not lead to an issued patent and will become abandoned 12 months from its filing date. A non-provisional application must be filed within this period to take advantage of the provisional filing.
Design Patent Application
Design patents may be granted to anyone who invents a new, original, and ornamental design for an article of manufacture. The design patent protects only the appearance of an article, but not its structural or functional features.
Utility Patent

Utility Patents may be granted to anyone who invents or discovers any new and useful process, machine, article of manufacture, or compositions of matters, or any new useful improvement thereof.
Mechanical Electrical Software Foreign Patents
Since the rights granted by a U.S. patent extend only throughout the territory of the U.S.and have no effect in a foreign country, an inventor who wishes patent protection in other countries must apply for a patent in each of the other countries. Almost every country has its own patent law, and a person desiring a patent in a particular country must make an application for patent in that country.
Patent Cooperation Treaty (PCT)
The PCT is presently followed by over 90 countries, including the U.S.The treaty facilitates the filing of applications for patent on the same invention in member counties by providing, among other thins, for centralized filing procedures and a standardized application format.
The timely filing of an international application affords applicants an international filing date in each country which is designated in the international application and provides (1) a search of the invention and (2) a later time period within which the national applications for patent must be filed.
Under U.S.law it is necessary, in the case of invention made in the U.S., to obtain a license from the Director of the USPTO before applying for patent in foreign country. Such a license is required if the foreign application is to be filed before an application is filed in the U.S.or before the expiration of six months from the filing of an application in theU.S.
ПАТЕНТЫ
Патент дает его владельцу эксклюзивные права на изготовление, использование и продажу
изобретения. Чтобы обеспечивать защиту его владельцу патент должен быть
зарегистрирован в Государственном Патентном Офисе в Вашингтоне. Патентный
экзаменатор Государственного Патентного Офиса должен сделать исследование всех
предшествующих изобретений в США и в мире в целом для того чтобы установить
оригинальность, новизну и необходимость данного изобретения. И только после чего
патент выдается его владельцу.
​
LIST OF PATENTS RECENTLY FILED BY OUR OFFICE - СПИСОК ПОДАННЫХ ПАТЕНТОВ ЗА ПОСЛЕДНЕЕ ВРЕМЯUS 9,803,790
US 8,758,473US 9,669,422 B2
US 6,782,709US 9,282,392 B2
US 9,282,179 B2
US 15,052,240
US 8,138,763
US 8,264,230
US 9,102,538
US 14/654,588
US6,675,047
US14/632,459
US14/399,369
PCT/US2012/055404
US6,536,429
US14541873
US14/530,228
US14/263,755
US14/361,016
US14/375,040
US13/902,903
US14/236,952
US14/011,799
US8471009
PCT/US13/50031
US61/818,693
US8,309,559
US8,442,809 B2
US12/941,902
PCT/US10/056103
US13/509,774
PCT/US10/056100
US13/509,769
US13/335,159
US13/335,204
PCT/US11/66884
PCT/US11/66897
US61/603,578
US61603583
US61/603,592
US61/603,601PCT/US12/55404
US13/001,041
US12/993,534
US12/451,985
US13/132,919
US12/308,040
PCT/US08/10077
PCT/US08/00698
US12/311,193
US61/010,253
PCT/US08/02708
US12/152,054
US61/405,205
US60/933,280
US29/363,970
US12/812,728
US12/812,733
US12/812,734
US61/447,498
US12/317,363
US12/227,158
PCT/US08/008519
If you are looking for a Russian Speaking Trademark and Patent Attorney in
United States please contact us at 818-251-6783
For additional information or a Free consultation, Email
V
chernob@yahoo.com
---