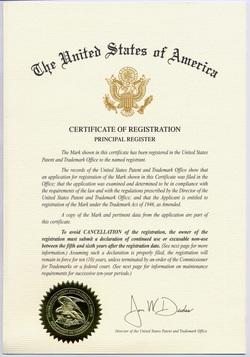 TRADEMARKS - ТОВАРНЫЕ ЗНАКИ
О ТОВАРНЫХ ЗНАКАХ НА РУССКОМ ЯЗЫКЕ ЧИТАЙТЕ ВНИЗУ ЭТОЙ СТРАНИЦЫWhat is A Trademark?
A trademark is any word, phrase, symbol, or design which identifies and distinguishes a company's goods or services from those of competitors. Some of the most famous examples are: Reebok® for shoes, Fuji® for film, the golden arches of McDonald's, and the distinctive curved shape of a bottle of Coca-Cola®.
Trademark or Service mark?Trademark is a word, phrase, symbol or design, or a combination of words, phrases, symbols or designs, that identifies and distinguishes the source of the goods of one party from those of others.

Service Mark is the same as a trademark, except that it identifies and distinguishes the source of a service rather than a product. Throughout this booklet, the terms "trademark" and "mark" refer to both trademarks and service marks.
Examples of Things that Can Serve as Trademarks

Words
- Advil®, Fuji®
Names
– Armani® , Versace®
Designs
– golden arches of McDonald's
Fictitious Characters
– Harry Potter® , Shrek®
Abbreviations
– BMW®
Initials
– IBM ®
Package Design
– Givenci bottle, Bulgary bottle
What's the deference between Patents, Trademarks and Copyrights?Patents
are registered before United States Patent and Trademark Office. A patent for an invention is the grant of a property right to the inventor, issued by the United States Patent and Trademark Office.
The right by the patent grant is "the right to exclude others from making, offering for sale, or selling" the invention in the United States or "importing" the invention into the United States.
Patent Examiner must research all of the "prior art" (scientific research and articles) in the world to determine whether the invention is new. A patent grants the owner the sole right to use or sell invention for 20 years.
Trademarks
distinguish a company's products or services from those of its competitors. A significant difference between trademarks, copyrights, and patents is that they may be renewed over and over again and can thus if properly maintained can be owned in perpetuity.
Copyrights
protects the expression of original ideas or works of art. Works of art protected includes books, plays, movies, paints, sculpture, computer software, songs, etc. A modification of the previous expression of art by another individual can often be copyrighted. Copyrights are recorded by the Library of Congress and generally give the owner exclusive rights to the work for the author's lifetime plus 70 years.
Trademark Filing:
Includes:
A search of federal trademark records for conflicts; filing the application electronically; representation during the entire application process (average length is approx. 12-18 months) including any letters, responses to Office Actions, phone calls or other replies if needed during the application process.
ТОВАРНЫЙ ЗНАК или TRADEMARKТорговая марка или trademark, указывает на отличие продукции выпускаемой вашей компанией от продукции ваших конкурентов. Торговой маркой может являться любое слово, фраза, символ или дизайн, которые характеризуют и идентифицируют продукцию и услуги вашей компании. Торговые марки подразделяются на сервисные марки и марки продукции. Сервисные марки
используются для идентификации услуг, тогда как марка продукции характеризует и отождествляет саму продукцию. Наиболее известными примерами торговых марок являются : "Kodak" для фотопленки, "Nike"для спортивной обуви, золотая буква "М" для McDonalds и отличительная форма стеклянной бутылки Coca-Cola. Права на торговую марку регистрируются в Государственном Патентном Офисе в Вашингтоне и могут быть продлены на неограниченный срок.
​
LIST OF TRADEMARKS RECENTLY REGISTERED & FILED
BY OUR OFFICE
-
СПИСОК ПОДАННЫХ ТОВАРНЫХ ЗНАКОВ ЗА ПОСЛЕДНЕЕ
ВРЕМЯ87727351
87743668
87750399
5,372,181
5,384,396
5,385,558
5,393,509
5,396,126
792208515,343,409
5,345,274
87687839
87665369
87665341
87648824
87648753
5,303,988
5,293,552
5,288,384
87643679
79206773
87588303
79204262
79202825
79211235
79204157
4148305
79203325
87249226
79204740
5,248,028
5,248,029​875324755220160
87468369
79202980
519356287403647
5154156
5140190
5139534
87330812
87330748
87325660
87321232
87321257
5126314
5113278
5076698
50934797915613679160128
1246672
86659683
4767253
4794415
4801687
4834174
4835550
4838974
4861305
4891853
79174585
86909102
87016670
86886907
4971122
87079041
79186331
7918835
5024946
79182348
5047611
3870028
3870025
3870023
3870021
5056892
A0046805
4,727,312
86394,753
79161402
4,718632
4,702,168
86575062
4,691,123
86544909
79154015
4,683,239
86533671
86533612
86495505
4,651,035
4,642,994
79150368
86246619
4,611,861
4,608,746
79145494
4,566,260
79139884
79144524
4,562,205
4,519,999
86301459
86301515
4,545,138
3462790
3647797
4,474,123
4,468,364
4,468,345
86167076861670254,460,57386154831
4,367,4504,435,2904,352,129
4,402,125
86009545
86010603
85917892
3427043
4,333,3873405381
3849624
3849622
3527049
3527044
3526952
3871738
3753728
4120792
4017825
3866597
3707955
4134077
3731314
3694730
3590483
3630355
3574821
4130887
4153024
4266516
42705813651352
3924846
7764016777836623
4247955
4235708
4259475
85796506
8583544479115719
79117731
79115287
7911591885761143
8532809685328083
8555330478772067
77866229
77866147
7742564677424396
77409604
85014498
7760735685303157
7908721577850397
7765883485254789
7751302677511432
7757316077356374
8533405185355576
79101307
7910561879056034
79074695
If you are looking for a Russian Speaking Trademark and Patent Attorney in
United States please contact us at 818-251-6783
For additional information or free consultation, Email
vchernob@yahoo.com
---